自華光電®標準玻璃晶圓-超級拋光 myBlossom® Glass Wafer-MDF
Glass Wafer-MDF list
Click here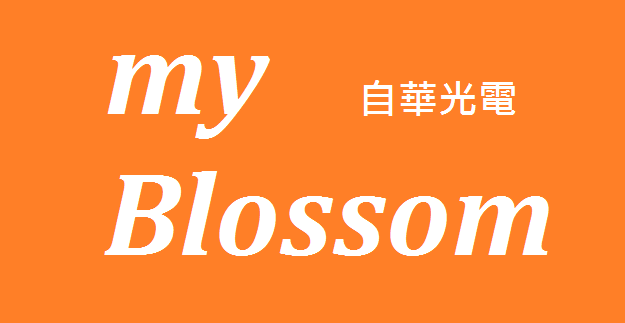 自華光電®標準玻璃晶圓-超級拋光
myBlossom® Glass Wafer-MDF



自華光電®代理全球最大標準玻璃晶圓/石英晶圓現貨超市

。



標準玻璃晶圓-超級拋光 採用德國Schott公司的Borofloart 33玻璃材料。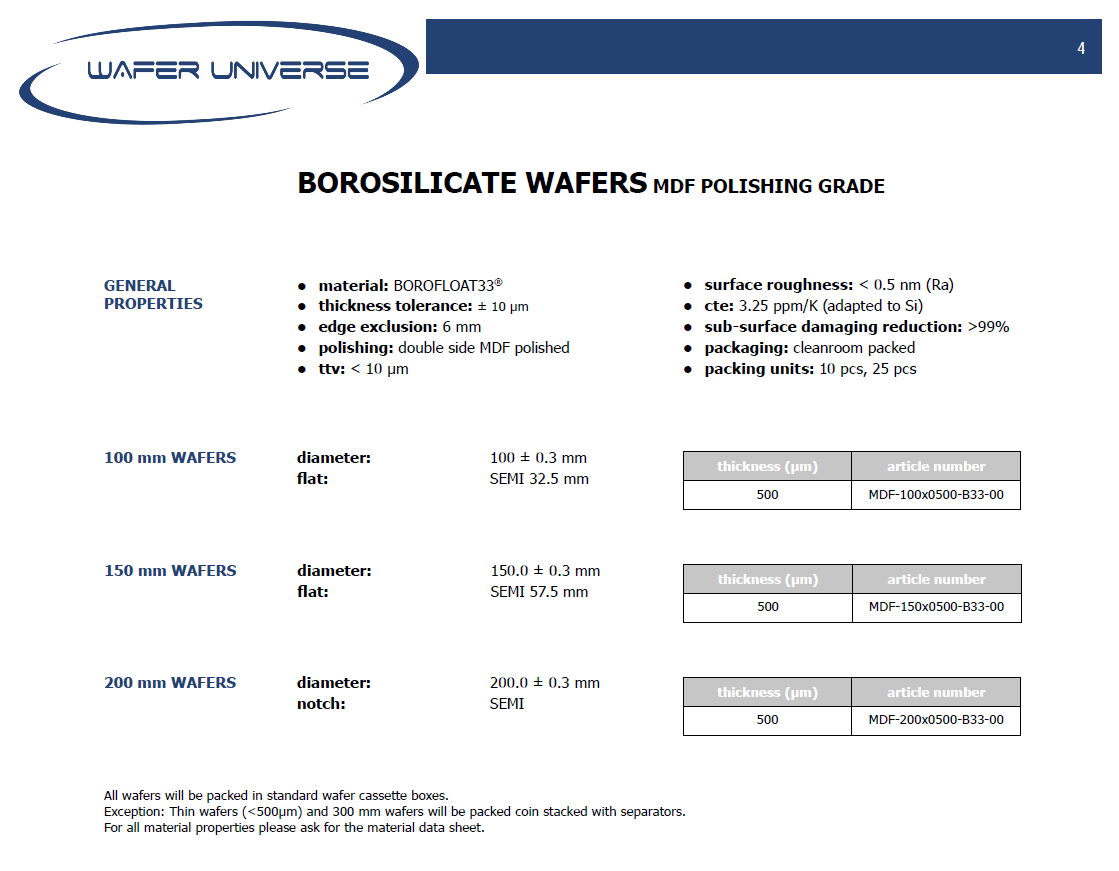 自華光電 - 德國Plan Optik AG 玻璃晶圓/石英晶圓 台灣獨家代理商。
Allen K. Lin | Allen@myblossom.tw | LINE ID: Allen-007 | Wechat ID: Allen-006 | T: 0910-782775

myBlossom® Glass Wafer-MDF
Glass Wafer-MDF list
Click here

myBlossom® Glass Wafer-MDF


BOROSILICATE WAFERS MDF POLISHING GRADE


MDF polished wafers are treated by an enhanced polishing process (Micro Damage Free) developed by Plan Optik. These wafers are specifically developed for chemical patterning processes (wet-etching) leading to higher yield due to reduced defect rate. Their extremely low sub-nanometer surface roughness makes them ideally suited for direct bonding (fusion bonding).


MAIN PROPERTIES

• material: BOROFLOAT33®
• surface roughness < 0.5nm (Ra)

• cte of 3.25 ppm/K (adapted to Si)
• temperature resistance up to 500°C
• transition temperature of 525°C
• dielectric constant of 4.6 (25°C)
• optical transmission >91% (350 - 2400 nm)
• sub-surface damaging reduction >99%
• packing units: 10 pcs, 25 pcs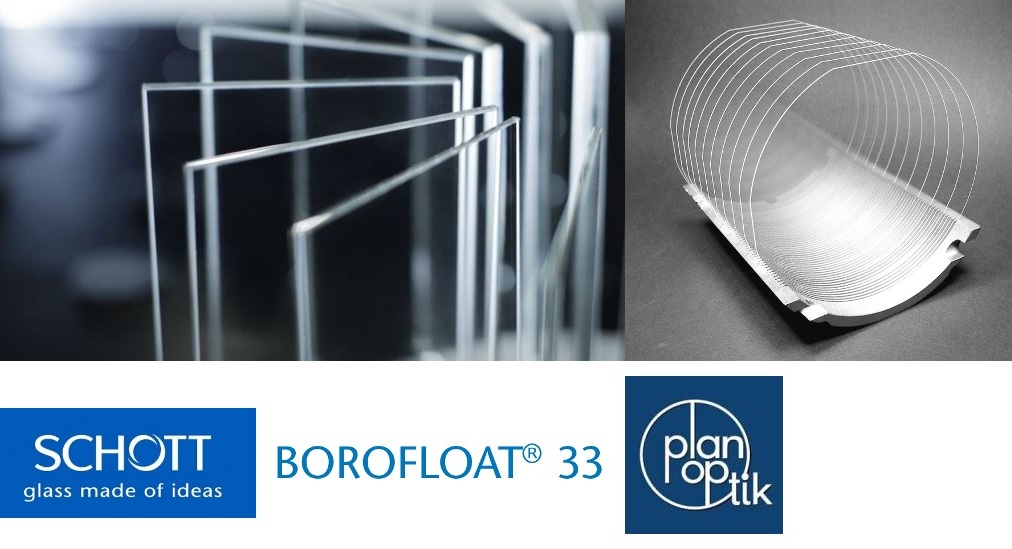 BOROFLOAT® 33 Borosilicate Glass
BOROFLOAT 33
Click here


BOROFLOAT® 33 Borosilicate Glass

Flat high-quality, multi-functional float glass

BOROFLOAT® 33 is a high-quality borosilicate float glass with outstanding properties for a wide range of applications.

This is a unique float glass that can compete with the best technical-grade flat glass in the world. SCHOTT manufactures the glass using the Microfloat process and the latest technology. This technology results in a homogeneous material that has an excellent mirror-like surface, a high degree of flatness, and outstanding optical quality.